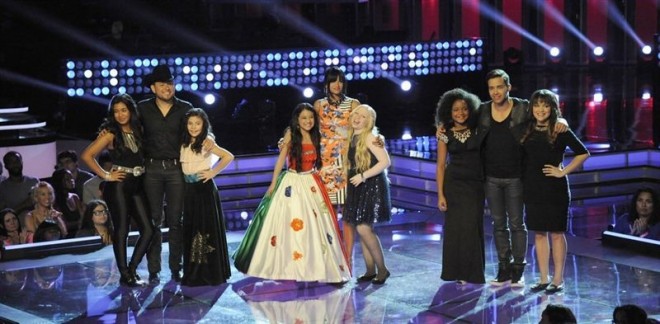 [box type="shadow" ]As a selected blogger by Telemundo and Mami Innovative Media, information presented here is from exclusive media participation in #LVKBloggers Day and opinions expressed are our own.[/box] I was laid up after surgery shaking my fists at the ceiling because I could not make this event! Thankfully, my girl Suzy was able to fill in for me. Check out the recap.
[divider]
I was so honored when my good friend, Sili called me up to ask me if I'd be interested in participating in La Voz Kids bloggers day (#LVKBloggers) in her stead. Ummmmmmm…. how about, "Heck Yeah!!! I'm totally there!"
On the day of, I'm all dressed and ready to head out the door, about to print my parking pass when "GASP!!!" I was supposed to ALREADY be at Universal Studios Orlando, meeting with my fellow bloggers! Thankfully, Jocelyn with Mami Innovative Media was super cool and told me not to worry, just get there as soon as I could. Now, I live a good 30-40 mins away from Universal Studios, and if traffic is bad make that an hour! Let me tell you, the universe was looking out for me that day, I made it there in 20 minutes flat. Not without a lot of nail biting and unlawful speeding, of course!
All was worth it in the end, I met some fantastic bloggers and got an exclusive backstage tour of the LVK studio.
On a quick side note: For us locals, we always think of Universal Studios as a theme park with lots of rides, restaurants and tourists. Rarely do we ever give thought to the name and what it may actually mean, but I'm here to tell you… Universal really does have studios, ya'll! Lots and lots of studios, where movie and reality TV magic really happens. How COOL is that?!
Can I just say, how hooked I am on this show!? These kids are uber talented and they have such great stories. I loved all the performances and enjoyed seeing all the coaches perform alongside their teams. Natalia Jimenez debuted her latest song, "Creo En Mi" and wow, wow, wow, that woman can sang!!!
I was so sad to see some of the contestants go home, but after seeing all of their amazing and hard work backstage, I knew they would be coming out successful in their future careers. This show really lays a foundation for these youngsters to blossom and grow, it not only gives these kids inspiration and hope but it trains them to the reality of show business. I could see how dedicated these kids were during rehearsals, breaks and of course during the taping. I know all of the contestants will have a great chance of success after this show.
Now, I'm super excited for the finale, this Sunday, June 8th at 8 PM EST on Telemundo. I will be sure to tune in and see which lucky kid wins La Voz Kids competition! Will you be watching too?
Which team are you voting for? Team Natalia, Team Tapia or Team Royce? Follow along and see who you're rooting with!
Be sure to check out La Voz Kids on Twitter and on Facebook to get the latest updates of the competition!
About the Author:
Suzy Mora is a versatile and crafty Mami. She is relatively new to blogging at
SuzySewCrafty.com
where she shares her passion of sewing, crafting, gardening, boating, cooking, emergency preparedness and of course her family.
When she's not busy being a social media professional by day, Suzy loves to stay busy with one of her hobbies. Lately, she's been infatuated with embroidery and appliqué and has made lots of great shirts for her kids and friends. (Though I haven't gotten any awesome shirts yet. I got my eye on you Suzy!)
Be sure to follow Suzy on her blog-ventures and on her Facebook, Twitter and Pinterest!