Disclosure: I was provided a vehicle for 1 week in order to write this review I'm an SUV girl. I'm not going to lie. I always think there's more room for all of the non-existent things that I could possibly/maybe/perhaps need to carry.
When I was asked to review the M3, I was leary. I said yes thinking that I'd be giving it a lukewarm review and sending you guys on your way to SUV land.
Well, not so much. I was pleasantly surprised to find the Mazda 3 roomy, easy to handle, sporty AND fuel efficient.
My vehicle was the Mazda 3 i Grand Touring, in case you're wondering. Â I like to name my vehicles so most of you got to hear all about this on Instagram as I fretted on a name. I settled on Max and decided my car was a boy (these are the important things one must decide when driving a vehicle, people).
I could list all the standard features but, I won't because you really don't want to read that, do you? Â Here are some of the highlights:
Skyactiv-G 2.0L engine
Skyactiv-Drive 6-speed sport A/T with manual shift mode (I totally enjoyed driving manual!)
5-passenger seating (same as my SUV)
Leather trimmed seats & doors (front seats were heated. Wonder if they can make an ice feature for the hot Florida days?)
Dual zone climate control (because 78 degrees is acceptable to me and not others)
Latch child safety seat anchors (BIG one for me & my Britax)
60/40 split fold-down rear seat (for when you need to transport a body dresser)
Mazda advanced keyless entry & start system (which now means I'm looking for buttons & forgetting I need keys when I step into cars. Thanks, Mazda)
Advanced dual front and front side-impact airbags
Front & rear side air curtains
Blind spot monitoring system
That blind spot monitoring system came in VERY handy and on 2 different occasions while I was driving, prevented an accident. The first was literally the very first time I drove it. I was heading in to the office and was on the expressway when a car came around another car 2 lanes over as I was trying to merge on to the middle lane. I heard a beep and immediately saw the cars (invisible during any other time) light up on the side mirror.
The next time this came of use was while I was driving through downtown. A car was trying to merge into my lane and I was in his blind spot. I saw the light go off and immediately pressed the horn, alerting the driver. A mile or so down, while we were at a stoplight, he pulled up next to me to apologize. I was happy we were both okay but thought: you need this blind spot monitoring system! I was with the frog princess that day and so it was a little scarier to think of what would've happened if he had crashed into the side of my car.
What impressed me
The blind spot technology is definitely one that I appreciate in newer vehicles (why hadn't they thought of this before?). I was also happy to see how much room there was in the trunk. I was able to go grocery shopping without having to worry about whether there would be room.
Hands down without a doubt the thing that impressed me the most about this vehicle though? The mileage. When I was doing the walkthrough and Luis was taking me through all of the functions. I noticed something on the display. "Is that the mileage I'm going to get from this?" I asked. Luis smiled and said yes. I didn't believe him.
Well, I kept taking pictures of the mileage because I couldn't believe my eyes. I drove 315 miles total and still had a quarter of a tank remaining! It's because of the Skyactiv technology. There was a lot of explaining but I'm not going to lie, my eyes glazed over. The only thing I got from all of it is that the way that Mazda is building its engines now make them lighter and thus more fuel efficient. That's about all I needed to hear. That and a combined 33 MPG (28MPG city & 40 MPG highway!).
The car drove beautifully, I felt safe in it and I felt fuel efficient (never thought that would be a feeling for me but, my pockets understand).
I hadn't thought I could go back to a car after having an SUV but now that I have driven Max, the possibilities are endless.
The frog princess enjoyed the car as well. Here are some of her quotes: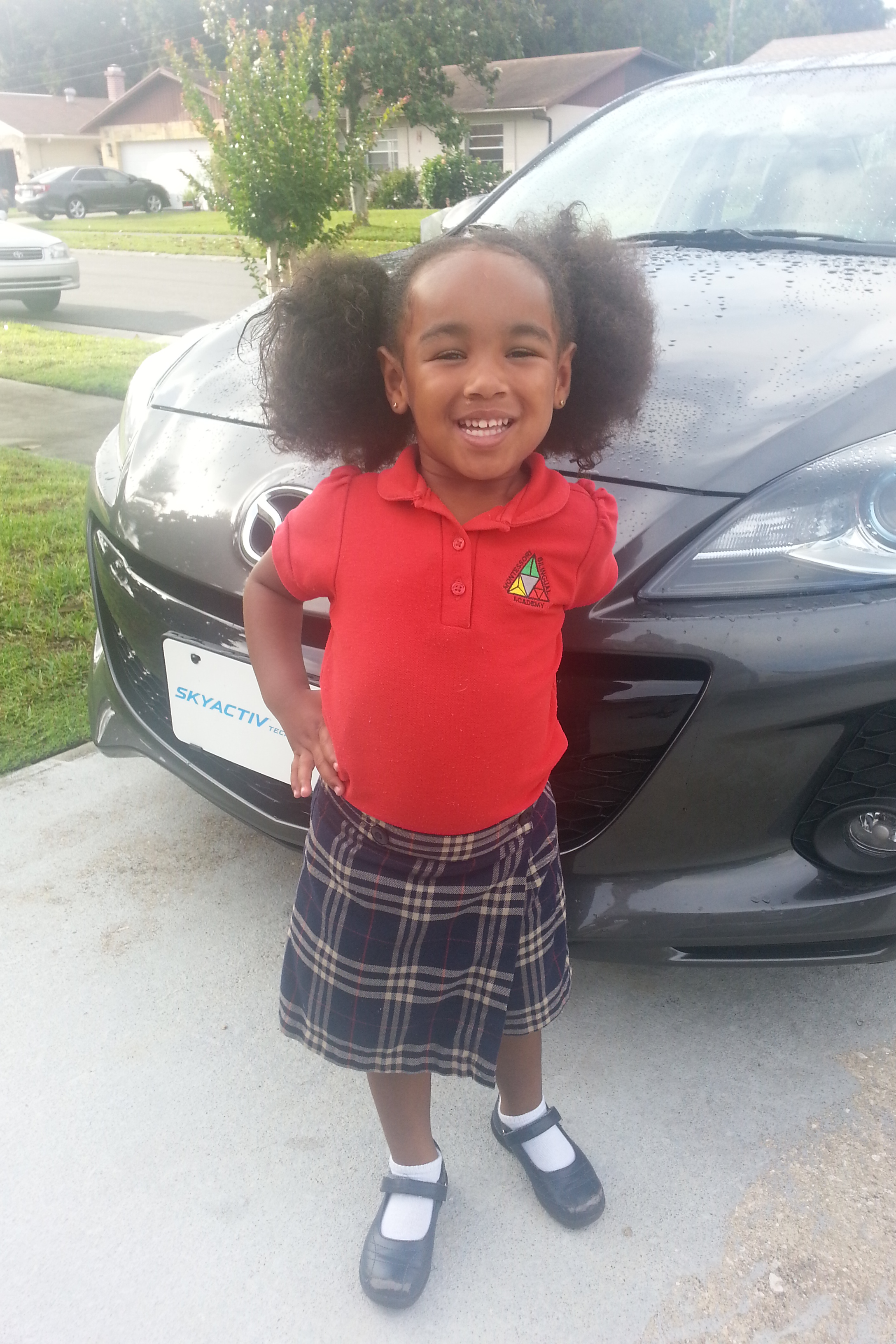 Have you driven a Mazda lately? If you haven't, now would be a good time to start!
Disclosure: I was provided a vehicle for 1 week in order to write this review. All thoughts, fuel efficient dreams and frog princess commentaries are purely our own