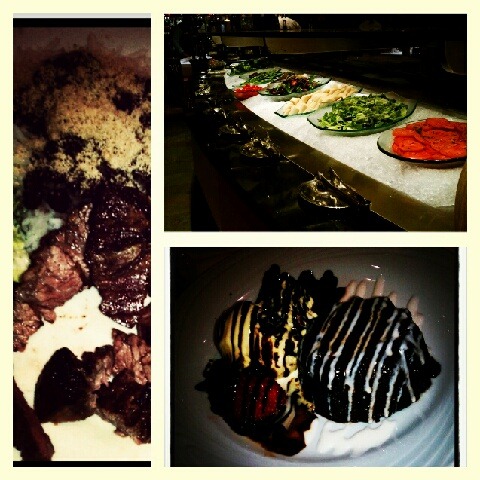 If you follow me on the Twitter you know how much I love food. Recently, I've realized something about myself (yes, I'm still in self-discovery mode, don't judge me!). I enjoy cooking, it brings a certain peace into my life possibly because of all of the history of cooking in my family. But the thing is, I love food a lot more when someone else cooks it. When I heard about Orlando's Magical Dining Month I couldn't get to the preview fast enough.
The good people at Visit Orlando shepherded us over to Fogo de Chão, an authentic Brazilian steakhouse in Orlando last week to give us a taste of what to expect during the month of September.  The name is a mouthful (correctly pronounced fo-go dèe shoun). Thankfully so is the food. Here's the problem, everything is good. And this is bad because it's pretty much all you can eat. They have a beautiful salad bar and authentic Brazilian sides. Their coup de gras, however, is their meats. Roasted in an open charcoal fire, these meats are seasoned with nothing but coarse salt and pepper. But the effects are mouth watering to say the least. With 16 different cuts of beef, lamb, chicken and pork you understand why everything being delicious is a bad thing, right?  And don't get me started on their desserts. The one recommendation I have for you: wear lose clothing!
Oh also, be sure that you keep an eye on your double-sided disc. See, the gauchos will keep bringing you meats as long as they see that disc turned up to green. Though I will say, I'm glad they asked me if I wanted to try some meats when my companions were getting some and my disc was red. I got to experience some new explosions of deliciousness because of that.
September is going to be a beautiful month. Now that I've gotten Fogo off of my list, I plan on making my way to one of the SEVENTY restaurants on the list every weekend. Yes, I've already started a Pinterest board in anticipation of which restaurants I think I am going to hit (currently on the list: Luma, MoonFish, The Boheme).
I've just realized I'm going on and on and on here and not told you what's so magical about Magical Dining Month in Orlando. Let me answer your questions:
Are top restaurants participating? YES! Check out Orlando Magical Dining for a complete list of menus and to make reservations.
Are they giving back to the community? YES! The 2012 charitable beneficiary for Magical Dining Month is Edgewood Children's Ranch. They will receive $1 for every meal served.
What's so magical about this? With 70 restaurants participating all over the city, you can taste the magic of the city for the low, low price of $30!!!!!! That's a 3-course meal that will make you jump for joy. For $30. Now do you get the magic?
Now I have 2 questions for you:
1. Which restaurant are you going to first and
2. What time should I be ready to go?
Disclosure: Visit Orlando treated me to dinner at Fogo de Chão. All drooling on my keyboard and stuck zippers due to my total lack of control are purely of my own doing.