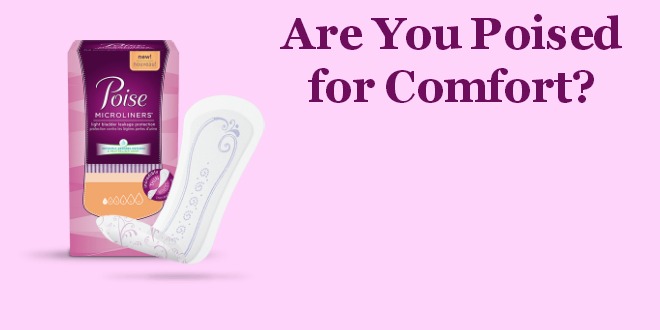 [box type="shadow" ]This is a sponsored post. All thoughts, opinions & TMI's are purely my own. Thanks![/box] I have a new friend. Sam. We met one day after I went jogging and I hope to continue the relationship.
The day I realized I needed Sam was a hard one. I'd just gone jogging and realized that due to some of my issues with endometriosis I wasn't able to do what I set out to do. And so, I found myself in deep need of Sam.
Have you heard of Sam? Sam stands for Super Absorbent Material that's designed to lock away wetness better than period pads and liners.
I first had the pleasure of meeting Poise in my 7th month of pregnancy when I could no longer fool myself into thinking that there was something else going on other than the kid bouncing on my bladder and me having mini accidents. I always carried low and this kid reminded me exactly how much control she had over my bladder constantly!
The amount of comfort and confidence that I felt when I first started using the pads was incredible. We aren't supposed to talk about all stuff, right? Well, I'm talking about it because I know some of y'all need this product (don't make me name names!).
Many women suffer from light bladder leakage (LBL) after they give birth. I'm here to tell you that one of the big sign for me recently that something was really wrong was when I went for that jog and felt a little LBL. Turns out my bladder was attached to my abdominal cavity (thanks endo!) and that was stopping it from doing it's job properly.
But, whatever your issue is, there's a solution, a way to stay dry and comfortable throughout the day in spite of what plans your evil bladder might have.
As I recover from my surgery, I am dreaming of the day when I hit the pavement again. With Sam securely in my pants.
Want to try these? Get your free sample here. And, because I love y'all, go ahead and sign up to win a $20 Amazon Gift Card that you can use to buy your first packs of Poise! Your pants will thank me! And so will you.
Disclosure: This post is sponsored by Poise. All thoughts opinion and bladder issues are purely my own. The giveaway is sponsored by moi.