I've talked to you about how much I love cards and handwriting notes to people but, I also love all of the other products and gifts that you can find at Hallmark. Whether at a store or online. One of my new favorites are the recordable storybooks. I have way too many of my friends currently pregnant and, though I don't want to give away the surprise, you're getting at least one of these.
I mean, I get to read these and record my voice, inflection and excitement for some of my favorite stories. It doesn't get any better! I will say that sometimes, when I hear others read a book I think: that's not how you read it? Have you done this before? Â Don't act like it's just me.
They have some of my favorites in this format including On the Night You Were Born (which I have for the frog princess and still find myself tearing up as I read), Guess How Much I Love You, Goodnight Moon and All the Ways I Love You. Just when I thought I'd be culling down the picture book collection, it seems that there's no way my library could be complete without them.
As if those weren't enough, Hallmark has now added more awesome to their Recordable Storybook line with Disney! First on my list is What Makes a Princess? Though I will be honest with you, I'm totally getting You Are a Hero, All the Ways You Save the Day because I believe girls can be princesses and heroes all at the same time.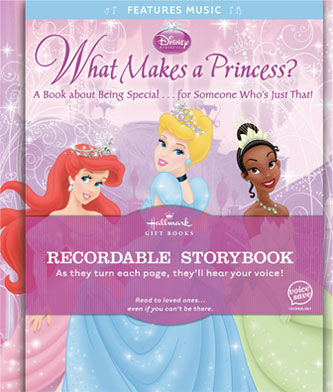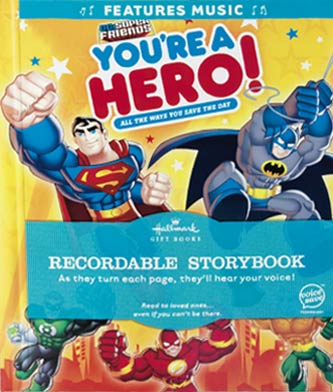 To bring the magic of Disney Recordable Storybooks to life, Hallmark is sponsoring the Disney on Ice tour. And wouldn't you know it, they will be in Orlando next week. Eeek! I have never been to a Disney on Ice show and I'm pretty sure I'm more excited than the frog princess about this.
Of course, I don't want to be the only one excited about going to this show so, you have a chance to join me on September 8th at the Amway Center at 3:30 p.m. And while I could just make this a big girl's day, I thought we should include the kiddies so, I'll be giving away a family 4-pack as well as your very own  Disney Recordable Storybook. Are you excited yet? I am!
Good luck and maybe I'll see you on Saturday. I may or may not don my fairy wings that day (I find that the people that sit behind me at shows get annoyed because of my wing span).
I will select a winner at noon on Wednesday that way there will be enough time for me to collect your mailing address and have the tickets and book shipped to you so that you have them by showtime.
Disclosure: I am being given tickets to the Disney on Ice show as well as a copy of a Disney Recordable Storybook in exchange for this post. Oh and, I got the 4-pack for you as well. Because that's how generous I am. All opinions, excitement and wings are my own.